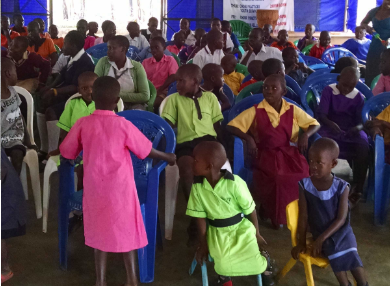 Every day there are eighty-one (81) newly orphaned children in Uganda due to the ravages of decades of war, dictatorship, sex trafficking, HIV/AIDs infections, and death. Many children live in slums and garbage dumps with no shelter, adult caregiver, or a safe place to sleep. Without intervention, young girls are forced into prostitution and boys into stealing just to survive.
Public and private education is available for children who have funds to pay the school fees, supplies, and uniforms. With the daily earned income of just over one US dollar, many adults do not have the ability to send the children they are caring for to school, nor do they have money to buy the supplies and uniforms that are required.
Since 2009, Divine Holistic Ministries (DHM) has been caring for the orphans and widows of the surrounding communities and villages of Jinja, Njeru, Butema, and others.
The sponsorship program represents over 125 children that are orphaned, at risk, and in need of support.
Your gift of $25.00 a month will supply school fees, uniforms, and supplies, spiritual training, medical attention, and food. In DHM's care, the children are taught the Word of God, morals, the dangers of HIV/AIDs, and how to become a productive citizen. Sponsorship Form
"The world is a dangerous place, not because of those who do evil, but because of those who look on and do nothing."
  — Albert Einstein, theoretical physicist
"Hungry for love, He looks at you. Thirsty for kindness, He begs of you. Naked for loyalty, He hopes in you. Homeless for shelter in your heart, He asks of you. Will you be that one to Him?"
― Mother Teresa, In the Heart of the World: Thoughts, Stories, and Prayer